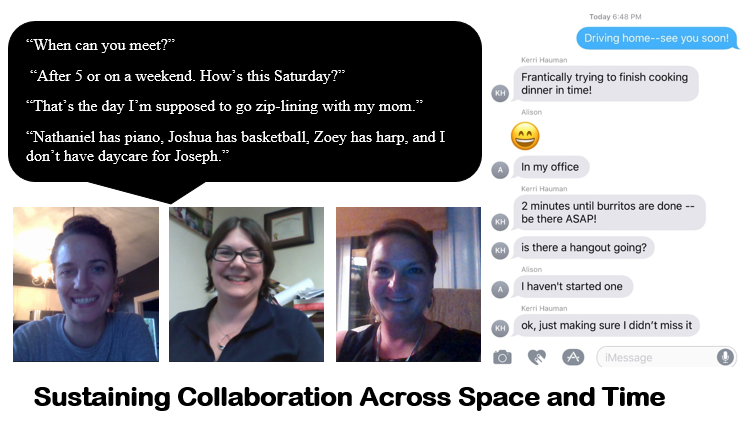 Introduction by Dr. Lee Nickoson, Director of General Studies Writing and Associate Professor of Rhetoric and Writing at BGSU, and Dr. Sue Carter Wood, Director of Rhetoric and Writing Doctoral Program and Associate Professor of Rhetoric and Writing at BGSU.
Alison Witte, Stacy Kastner, and Kerri Hauman met in August 2009 when they began BGSU's PhD program in Rhetoric and Writing. Together, along with other BGSU Rhetoric and Writing alums and faculty, they've crafted a review, presented at more than five conferences, and published two articles. They've spent numerous hours discussing ideas and texts; thinking and writing together; listening and advising; sharing CFPs, projects, or articles that they know fit each other's interests; drinking wine; and dreaming up their next project (often late at night, often in different states, often asking questions that don't seem to have answers, and always talking through different ways to find those answers and share them with others by coming together in writing).
They aren't asking remarkably different questions than they were as graduate students in room 333A East Hall where Kerri and Stacy shared an office—How are the instructors who teach digital writing being trained to do so, what does high impact and ongoing technology professional development look like, and who is responsible for designing and delivering it? However, no longer graduate students themselves and instead professors, IRB officers, Writing Center staff members, and de facto administrators of all varieties, they've learned more about where to look for answers. They've learned how to understand the teaching of writing as a task distributed across the university, from the Classics department to the instructional technology unit to the student accessibility services office. After an extensive literature review of professional documents by NCTE, CCCC, MLA, WPA, and TYCA, and a survey where they learned very much about very few institutions, they're currently designing a multi-site study that will allow them to better understand the techno-ecologies on college and university campuses that support the preparation of current and future instructors of digital writing, as both teachers and writers.
Kerri Hauman
Assistant Professor of Writing, Rhetoric, and Communication
Co-Director, Digital Liberal Arts Initiative
Transylvania University
khauman@transy.edu
@kehauman
kerrihauman.com
Alison Witte
Associate Professor of Humanities & Communication
Trine University
wittea@trine.edu
@acwitte82
www.alisonwitte.net
Stacy Kastner
Associate Director of the Writing Center and Writing Support Programs
Brown University
Stacy_Kastner@brown.edu
@smkastner