Volume 12, Number 1 (September 2019) Vol. 12 Issue 1
In This Issue (12(1)
Welcome to the first issue of Volume 12 of the
International Journal of Aquatic Research and Education
.
Due to the "flexibility" that electronic publishing provides, this first issue was a "work in progress." In other words, new articles were added throughout the month of September 2019 as editors and reviewers completed reviews, edited, and finalized manuscripts for publication. At the end of September, the issue was wrapped up with ten new publications, nine research articles and one research note
As I have alluded to previously, IJARE has accumulated a large backlog of manuscript submissions due in part to our transition from a proprietary (subscription-based), print and electronic publication to an open access, online electronic publication. Of course, that excuse has"gotten old" to many authors who have been queued up for a much too lengthy period of time. Co-editor, Jenny Blitvich, and I continue to work diligently to reduce the backlog and get as many of those deserving and long overdue papers published as possible.
This current issue represents our ongoing attempt to publish as many finalized papers as possible. As always, to authors, thank you for your continued patience, and to readers, stay tuned for an exciting batch of interesting research and educational articles that will keep moving the aquatic literature forward. As you will note from the short summaries provided below, these papers represent a wide range of aquatic topics from authors around the world. Read and enjoy.
Research Articles
The first research paper in this issue came from a group of authors, Wesley Manz, Joel Greenshields, Brian Wright (DePauw Univ.), Curtis, Goss, Benjamin Skutnik, and Joel Stager, from the Councilman Center for Aquatic Research at Indiana University, Bloomington, IN. This study, "Head depth and head speed during competitive backstroke ledge starts,"adds to a lengthy series of articles in IIJARE studying the characteristics and safety of headfirst entries (racing starts). This particular study focused on backstroke and the starts using the new backstroke ledge. It is well worth reading.
The second research article came from a group of investigators from Southern Cross University (Rudi A. Meir, Zachary J. Crowley-McHattan, Lyndon O. Brooks, Blake Duncan, & Christian Gorrie) plus Jeremy Shepard of the Canadian Sports Institute Pacific. The study, "Measures of fluid loss during surfing: A preliminary analysis in recreational surfers," examined a group of surfers to identify their levels of hydration using several measures of dehydration. The study used very interesting observation measures to categorize the activity levels during surfing and also compared different attire used during surfing.
The third research article, "Parental choices of flotation devices for children and teen swimmers and waders: A survey at beaches in Washington State," was authored by a collaborative group of authors from the JSI Research and Training Institute (Natalie Spitzer, Thomas Mangione, Wendy Chow) and University of Washington School of Medicine (Linda Quan) and Seattle Children's Hospital (Elizabeth Bennett). The study is an important one related to drowning prevention and the role that flotation devices may play in that process.
The fourth research study, "Effect of aquatic exercise on fatigue, fitness, arm edema, levels of distress, and quality of life among breast cancer survivors, authored by Ellen Broach and Phillip Norell, both of the University of Southern Alabama. This study was an outstanding and thorough examination of the role that water exercise may play on a wide range of variables for breast cancer survivors. I believe it will become a classic article in water exercise and therapy for breast cancer.
The fifth research study, titled "Perceptions and motivation toward water safety and aquatic activities in college students," studied the role of aquatic classes in two HBCUs on students' likelihood to improve their skills and knowledge about swimming and water safety. The four authors of this qualitative study were Jorge Olaves, Ezzeldin R. Aly, Ph.D., and Maria Okeke (all from Florida A&M University) and Asherah N.B. Allen (North Carolina Central University).
The sixth research article, authored by Antonio Cuesta-Vargas and Carlos Cano-Herrera from the University of Malaga, Spain, was titled, "EMG analysis of the neuromuscular activity during sit-to-stand from different height chairs in water." The authors examined whether rising from chairs of different heights in the water required different muscular activation patterns from muscles of the core and lower extremities. To see what they discovered, you will want to read their paper.
The seventh research article comes in the form of the paper, "Learning from incidents to reduce the risk of drowning in swimming pools: Implementation of experience-based feedback regarding near-misses in four public facilities in France." The three authors, Elie Vignac (Universite de Rouen), Pascal Lebihain (Universite de Poitiers), and Bastien Soule (Universite Claude Bernard Lyon 1) have addressed a fascinating and much-needed approach to drowning prevention. On the theory that even minor incidents and "near-misses" result from the same mechanisms and systems that result in fatal drownings, they studied 32 months of incident records provided directly from lifeguards and facility managers and described them quantitatively and qualitatively. Those readers interested in drowning prevention will very much want to read and reflect on this ground-breaking article.
The eighth research article, "Energy cost of land and shallow water walking in females who are overweight and obese," was authored by Jacqueline N. Zera (John Carroll University), Elizabeth F. Nagle (University of Pittsburgh), Bethany B. Gibbs (University of Pittsburgh), John P. Abt (University of Kentucky), and John M. Jakicic (University of Pittsburgh). This insightful and well-designed aquatic exercise paper investigating differences between land and water exercises is worth careful reading.
The final research article, "A Competency Analysis of Waterpark Aquatic Professionals," comes to us from Christopher Crume (Denison University) and William Ramos (Indiana University, Bloomington). The survey study represented by this paper was Chris's Masters thesis. It was only the third attempt to use evidenced-based processes to examine the required competencies needed for aquatic professionals; in this study participants all worked at waterparks. The information in the study represents the continuing pursuit of evidence-based knowledge in the aquatics field. Enjoy the read.
Research Note
The issue concludes with a research note authored by Nora Bekendam and two colleagues, German Diaz and Oscar García, all from Universidad Europea de Madrid in Spain. Their study was titled "Analysis of Cognitive Abilities in Female Swimmers." The study compared spatial relations and spatial and reasoning abilities between female swimmers and sedentary control students and discovered that the swimmers as a group displayed much higher cognitive measures than the non-swimmers.
I recommend the diverse international manuscripts that comprise this first issue of the 12th volume of the International Journal of Aquatic Research and Education.
As always, good reading Steve Langendorfer Editor, IJARE
Research Articles
Research Note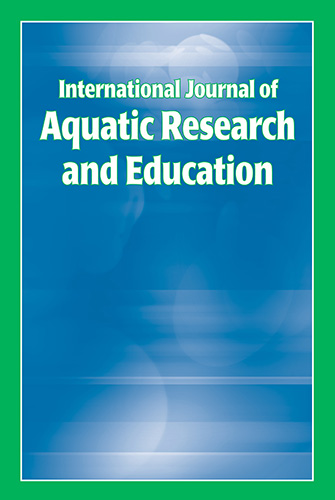 Call for Papers - Deadline Extended
Special Edition, Diversity in Aquatics
International Journal of Aquatic Research and Education (IJARE)
SUBMIT BY OCTOBER 18, 2019 - THIS IS A FINAL CALL
About IJARE
The International Journal of Aquatic Research and Education (IJARE) is dedicated to advancing the knowledge and practices of human aquatic professionals worldwide.
IJARE publishes empirical research and educational topics focusing on a variety of human noncompetitive aquatic topics including but not limited to water safety, drowning prevention, water competence, lifesaving/lifeguarding, water and aquatic exercise, aquatic facility design and operation, aquatic legal and risk management, aquatic recreation, and the learning and teaching of aquatic knowledge and skills to improve the quality of life through aquatic physical activity. Further information about IJARE can be found at http://scholarworks.bgsu.edu/ijare/.
About Diversity in Aquatics
Diversity in Aquatics (DIA) is the nation's largest network of ethnically diverse aquatic professionals, athletes, enthusiast, and researchers working together to help save lives. The mission of Diversity in Aquatics is focused on efforts to eliminate the drowning disparity among historically underrepresented populations. Further information about DIA can be found at http://www.diversityinaquatics.com/.
About the Special Issue
This special issue provides a platform to share findings from empirical research (including quantitative, qualitative, intervention, or community-based studies), theoretical papers, educational articles, research notes and critical essays. Analyses of aquatic sport, water safety education policy and practices from diverse theoretical and methodological perspectives are encouraged.
Submissions concerned with aquatic physical activities and culture as related to race, socio-economics, gender, sexuality, policy, youth, and under-represented communities from both domestic and international perspectives are especially welcome.
Peer Review Policy
All submitted manuscripts to IJARE will undergo editorial screening and double-blind peer review.
Author Guidelines for Manuscript Submission:
To review the guidelines for developing and submitting a manuscript go to http://scholarworks.bgsu.edu/ijare/ and click on the specified tabs located on the left-hand side of the page. All manuscripts must be developed using the writing style specified in the Publication Manual of the American Psychological Association (6th ed.).
Submission Details & Requirements
The deadline for manuscript submission is October 18, 2019. For the purposes of this special edition, a required 200-word (max) abstract must be submitted along with the manuscript for review. The following types of manuscripts will be accepted for review:
● Original Research:
● Educational Article
● Research Note:
● Scientific/Literature Review
REVISED Timeline
● Call for papers released May 30, 2019
● Submission deadline October 18, 2019
● Reviews completed November 15, 2019
● Manuscripts returned to authors November 25, 2019
● Final drafts due December 1, 2019
Guest Editors: Angela K. Beale, PhD, Rowan University (bealetawfeeq@rowan.edu) Steven Waller, PhD, University of Tennessee (swaller2@utk.edu) Austin Anderson, PhD, University of Southern Indiana (aranderson2@usi.edu)
Editorial Information
Founding Editor: Stephen Langendorfer, Bowling Green State University (slangen@bgsu.edu )