Volume 10, Number 3 (July 2018)
In This Issue 10(3)
Update on IJARE Transition
As regular readers of IJARE realize, over the past two years we have transitioned IJARE from a limited circulation subscription-based journal originally founded, owned, and published by Human Kinetics Publishers to an open access online peer-reviewed scholarly journal supported by Bowling Green State University at no cost to authors or readers. One important result of this shift in sponsorship has seen an early prediction come true: well over 30,000 full-text downloads of our 350 published manuscripts have occurred worldwide and downloads are ongoing at well over 100 downloads per week! So many downloads of papers mean that IJARE indeed provides our authors with a global scholarly aquatic forum through which to disseminate their publications to readers worldwide.
As I have mentioned in previous editorials, the transition has taken much longer than expected despite terrific support by staff from BGSU University Libraries and bepress, my terrific spouse, Jeanne, and our many volunteer reviewers. An unfortunate consequence of the delay has been a significant backlog of unpublished manuscript submissions, both from before and since the changeover to the bepress Scholarworks program (URL: http://scholarworks.bgsu.edu/IJARE).
I again wish to thank those authors with papers still in the queue for their patience and forbearance as we try to get their papers reviewed, revised, and published as soon as possible. The articles in this current issue are some of those which have been awaiting publication for a substantial time.
In This Issue 10(3)
This third (and final) issue of Volume 10 of the International Journal of Aquatic Research and Education presents a number of articles on diverse non-competitive aquatic topics from authors from several countries.
Editorial
I offer an editorial to lead off this issue that provides brief remembrances of three aquatic professionals who passed away during 2017. Adolph Kiefer, Louise Priest, and Terry Laughlin each made important contributions to aquatics and deserve to be remembered. I hope you will skim my editorial and perhaps read more in the obituaries and tributes in the appended URLs.
Research Papers
The first research paper is one of the first papers we have published that comes to us from Spain. The authors, Juan Antonio Moreno Murcia, Elisa Huescar Hernandez, and Jose Antonio Richart Parra, all from the Universidad Miquel Hernandez de Eiche wrote "Acquisition of Aquatic Motor Skills Through Children's Motor Stories." The topic of this article, a novel aquatic instructional pedagogy, is an unique one that has received far too little attention, especially in IJARE. In the case of this article, it examined the efficacy of aquatic stories as a method to help children acquire water safety knowledge and information.
Educational Articles
The first educational article, entitled "The adoption process for the model aquatic health code: An example," was provided by a State of Indiana team of William Ramos and Allison L. Fletcher, Indiana University-Bloomington, Mike Mettler, Indiana State Department of Health, and Marcus A. Yoder, Leisure Pool and Spa Supply, Inc. Many aquatic practitioners will find the background about the MAHC informative and hopefully other states will considered using a systematic approach such as the State of Indiana has to reconcile current and recommended pool health codes.
A second educational article in this issue has been assembled by Phillip Conatser and Ulku Karabulut from the University of Texas Rio Grande Valley and Eric James from Department of Physical Medicine & Rehabilitation of the University of Texas Southwestern Medical Center. The article, entitled "Adapted Aquatics for Children with Severe Motor Impairments,"provides some very important theoretical developmental principles and very practical examples for anyone working with individuals who are alternatively-abled. A number of the principles are very consistent with this editor's own work, Aquatic Readiness (Langendorfer & Bruya, 1995).
Scientific Review
Alissa Rhode and David Berry, both of Saginaw Valley State University, MI, have authored a scientific review to wrap up this issue that compares the efficacy of land-based vs. water-based plyometric jumps. Those interested in aquatic exercise undoubtedly will find the review to be very useful and educational regarding the value of plyometrics, especially in the water.
Editorial
Research Article
Education Articles
Scientific Literature Review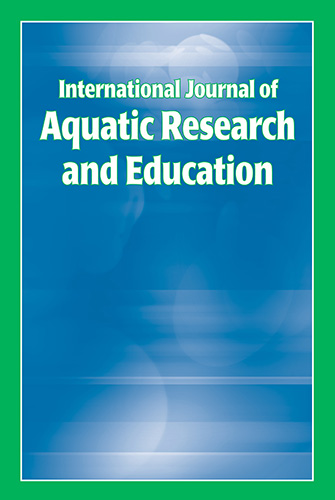 Announcing New Journal Co-Editor
It is my pleasure to announce that Dr. Jenny Blitvich, an internationally-recognized aquatic and drowning prevention researcher and author, has kindly agreed to serve as the co-editor for the International Journal of Aquatic Research and Education (IJARE). Jenny recently retired as Associate Professor and administrator at Federation (formerly Ballarat) University in Australia. She will assist me in leading the journal forward during the next decade.
I anticipate shortly announcing several new members of our journal's Editorial Board who also will provide new leadership, ideas, and support.
Special Issue
The International Journal of Aquatic Research and Education has agreed to publish a special issue of IJARE entitled Diversity in Aquatics in 2018. Drs. Angela Beale (Temple University), Steven Waller (University of Tennessee at Knoxville), and Austin Anderson (University of Southern Indiana) have kindly agreed to serve as special issue editors. They have published a call for papers that we will make accessible on this journal site. I am excited that we will feature this special issue on topics that deserve greater attention in aquatics. I am hopeful we can offer additional special issues in the future.