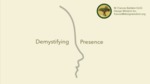 Title
May 25, 2022: Demystifying "Presence"
Files
Download Presentation Slide Deck (549 KB)
Description
"Don't only practice your art, but force your way into its secrets, art deserves that, for it and knowledge can raise man to the divine." -- Ludwig Beethoven
If the practice of organization development draws from both its science and art, intentionally cultivating a compelling presence actualizes the wisdom in Beethoven's quote. Isn't it the artistic dimension of our work that seeks depth and differentiates performance from being a presence of some consequence?
This presentation is the adaptation and integration of established theoretical notions that while a commanding presence is a gift for a select group of people; in the practice of organization development, a powerful presence, the consequence of how we show up, can be intentionally nurtured, practiced and integrated to fit one's authentic nature, for anyone willing to do the work.
We all know people who enjoy a natural, attractive bearing, an air about them, that allows/causes us to enjoy being in their company; listen attentively for their nuanced usage of language, the variations in their voice or gestures when they speak. We think of their affect as an aura, charisma, or mystique; qualities unique to them that may be imitated but not teachable or replicated by another.
Such gifts (wisely honed to context and purpose) may be valuable for the OD practitioner because effectiveness in our work depends heavily upon how we show up; use our "selves" creatively; how others experience us intellectually, energetically, and spiritually; an inexplicable nexus of knowing, doing and being.
Contemporary OD literature, training and development programs all accentuate the use of one's presence as essential to "making a difference;" and a key proficiency in the facilitation of change.
Demystifying, for the purpose of this interactive symposium, means examining the why, what, and how of intentionally embodying specific practices and mindsets that complete the highest potential of our natural presence. This includes a distillation of the literature as well the presenters personal/professional observations, and suggestions.
Please bring your perspective so that together we add concrete methods and explore practical questions related to what is known, unarticulated and unknown about practicing presence in the facilitation of change.
ABOUT Dr. Baldwin
Frances has over forty-five years of international experience as an educator, leadership consultant and coach. She served as an internal consultant for 20 years in the petrochemical industry and city government. As founding principal at Designed Wisdom, inc., a boutique consulting, coaching, and training firm, Frances' clients have included medical, aerospace, nuclear, military, educational and community organizations.
Winner of two lifetime achievement awards, Frances is also affiliated with the OD Network, NTL Institute, Journal for Social Change, World Café Foundation, and the Doctorate in OD & Change Program at Bowling Green State University.
Her signature style of teaching and speaking is the articulation of wisdom and useful principles gleaned from an extensive hands-on career; offered through engaging dialogue and compelling stories infused with humor and presence.
Publication Date
5-25-2022
Recommended Citation
Baldwin, M. Frances, "May 25, 2022: Demystifying "Presence"" (2022). DODC Symposiums. 11.
https://scholarworks.bgsu.edu/dodc_symposiums/11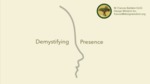 COinS