WRIT: Journal of First-Year Writing is a dynamic venue that highlights innovative, risk-taking writing projects created for WRIT courses in the University Writing Program of BGSU. The journal provides students across WRIT courses an opportunity to share their work and, in so doing, brings attention to highlight academic writing as an intellectual and creative enterprise. WRIT is a celebration of academic writing broadly writ.
See the Aims and Scope for a complete coverage of the journal.
Current Issue: Volume 2, Issue 2 (2019)
Welcome to WRIT Issue 2.2! This fourth issue of our journal, published just a few weeks before the start of Fall 2019, coincides with the end of General Studies Writing (GSW) and looks forward to the University Writing Program (UWP) that replaces, and yet continues the great work of, GSW with the start of the fall term. With this issue, WRIT: GSW Journal of First-Year Writing becomes WRIT: Journal of First-Year Writing.
The nine articles in this issue represent work from a variety of students with a range of topics, perspectives, and ways of writing and knowing. In avoidance of the unqualified claim that there is "something for everyone" in this assortment of student writing, let us just say that certainly there is something for many readers, here. Writers featured in this issue engage in rhetorical analysis, writing reflection, literacy analysis, research-based argumentation, social commentary, and more.
Take a look through the articles we proudly present in this issue and see what our student writers are capable of. This journal is a celebration of undergraduate writers' effort, achievements, and courage in sending their voices—with all that that entails—out into the world. We applaud these writers, and we hope you do, too.
Thank you to every writer who submitted work to this journal. We could not accept every piece, but we hope you will all continue to grow in and enjoy your journeys in writing. Thanks also to the volunteers who thoughtfully reviewed submissions and provided feedback to the writers toward making this issue the best it could be. Finally, thank you, dear readers, for supporting our student writers with your time and attention, for honoring the writers through your reading.
We hope you enjoy this fourth issue of WRIT and look forward to continuing to share student voices in future issues.
Articles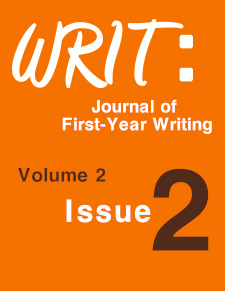 Editors
Editor

Brian Urias

Editor

Dan Bommarito

Reviewer

Jessica Eylem

Reviewer

Shahin Hossain

Reviewer

Morgan McDougall

Reviewer

Jess Puder

Reviewer

Lauren Salisbury

Reviewer

Tiffany Scarola

Reviewer

Micaela Tore