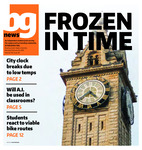 Description
The BGSU campus student newspaper. Volume 98-Issue 36. February 18, 2019.
Table of Contents
Time stands still for broken city clock tower;
9 reasons to convince you to stop using your car so much;
Letter to the editor;
Keep a respectful distance at the bars;
IT head talks future of A.I. at BGSU;
Possible actors for recasting of Wolverine;
4 thoughts after watching the trailer for "Yesterday;"
Wargroove takes strategy back in time;
Baseball loses two of three in opening series;
Hockey offense explodes against Alaska;
Bowling Green basketball blows out North Illinois on the road;
Gymnastics secures first win;
SICSIC members revealed;
City hopes to make room for bicyclists
Publication Date
2-18-2019
Keywords
BG News, February, 2019, Bowling Green State University
Creative Commons License


This work is licensed under a Creative Commons Attribution-NonCommercial-No Derivative Works 4.0 International License.
Recommended Citation
State University, Bowling Green, "The BG News February 18, 2019" (2019). BG News (Student Newspaper). 9082.
https://scholarworks.bgsu.edu/bg-news/9082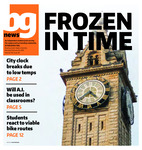 COinS