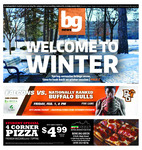 Description
The BGSU campus student newspaper. January 28, 2019. Volume 98-Issue 30.
Table of Contents
Winter session recap;
Who is hbomberguy, why did his "Donkey Kong 64" stream get so big?;
How corporate interests, streaming can hinder film preservation;
The multi-sided controversy surrounding the Women's March;
What I want in the new Pokemon games;
6 games to watch in the coming year;
What to watch in January;
BG Spotlight: Harper Smith;
How to buy a car;
Falcons drop road contest to Miami;
Review system for penalties needs to happen;
Men's hockey cools down with weather;
Bobcats squeak by Falcons to take victory;
Ohio "Heartbeat Bill" likely to pass;
City adopts new recycling app;
Honors Learning Community travels to Pittsburgh
Publication Date
1-28-2019
Keywords
BG News, January, 2019, Bowling Green State University
Creative Commons License


This work is licensed under a Creative Commons Attribution-NonCommercial-No Derivative Works 4.0 International License.
Recommended Citation
State University, Bowling Green, "The BG News January 28, 2019" (2019). BG News (Student Newspaper). 9077.
https://scholarworks.bgsu.edu/bg-news/9077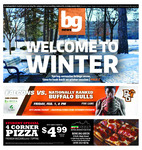 COinS